High Fidelity Earplugs for Musician, Concert, Drummer, Percussion, DJ & Clubbing – Reusable, Comfortable & Hypoallergenic Silicone – Triple Flange Design – Ear Protection from Loud Sounds, Noise Protection, Noise Cancelling – Patented Filter, Best Attenuation – Lifetime Guarantee
AMAZING HEARING PROTECTION, safeguard your ear against loud sounds or noises that can leave a lasting damage to your hearing like tinnitus & noise induced hearing loss

100% POSITIVE SELLER FEEDBACK, SATISFACTION GUARANTEED, beware of cheaper generic earplugs that might be lacking in efficacy, trust our 1000+ positive reviews and counting

PROFESSIONALLY RETAIN MUSIC, VOICE & CONVERSATION volume through 2 unique sets of earplugs with variable protection attenuation filters that do not muffle the sound like foam earplugs

PERFECTLY FITS THE EAR CANAL with precise triple flange design and cone shaped earplugs tip to fit a range of ear sizes and to ensure a great and lasting seal for your specific needs

NATURAL SOFT SILICONE MATERIAL THAT IS HYPOALLERGENIC & NON-TOXIC for better comfort and prolong usage, does not cause itch or allergic reactions like other plastic or PVC materials
Product Description
The Secret to Enjoying Music & Speech Clarity While Still Protecting Your Ears Against Loud Sounds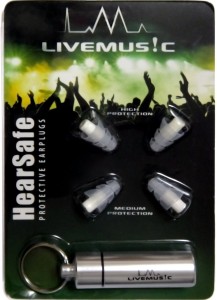 The Best Investment to Protect Your Ears and Prevent Noise-Induced Hearing Loss
– 2 pairs of earplugs with the highest Noise Reduction Ratio around
– Ultra portable aluminum carrying case with cord inside
– 6-12 months of continuous usage with minimal maintenance
Noise protection while retaining music and voice clarity
Unlike traditional foam earplugs, HearSafe earplugs contains a precision filter / damper with varied levels of strength. The precise structured filter reduces and weakens background noise and high frequency noise attenuation, thereby keeping useful music and speech signals suitable for musicians, percussionists, drummers, concerts, clubbing and more!
Forget about the ringing of ears after a night of clubbing, or after attending a rock concert, or even after a jamming session with friends, because HearSafe earplugs are here to protect your ears from hearing loss without compromising on quality of sound.
Two sets of earplugs in one package, highest NRR around
– White Filter has a Noise Reduction Ratio (NRR) of 29 dB
– Green Filter has a Noise Reduction Ratio (NRR) of 23 dB
– Official EN352-1:2006 and EN352-2:2002 certified
– 2 sets for a great variety of usage: live concerts, musician, drummer, percussionist, DJ, clubbing, motorbike, sleeping, shooting, heavy machinery, industrial, and many more…
The ONLY Earplugs Backed by a Lifetime No-Hassle Replacement Guarantee
Click on the Buy now with 1-Click button or Add to Cart button at the Top Right of the Amazon Listing Page to protect your hearing now!
More than 1000+ reviews on Amazon! Check out some of our 5 stars raving reviews below!